From the Archives: 1893
A new Headmaster At the end of 1892, after sixteen years as Principal of Carlton College, Mr Alexander Sutherland retired and handed the reins to his brother-in-law, Mr Thomas Gresham Robinson.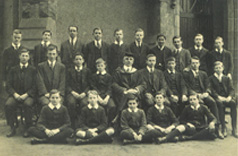 In the annual distribution of prizes in the Athenaeum in December 1892 he said, "As I have already informed all the parents by letter, I am retiring from the management of the school, which now passes into the hands of Mr. T. Gresham Robinson, M.A..
"After nine years' experience of the school, during a great part of which he has been our first assistant master, he has grown familiar with all its ways, and has had his full share in suggesting and carrying out past improvements. He proposes to conduct the school exactly as it has been conducted, although, I dare say, time will indicate little changes that may be desirable."
As it turned out, Mr Gresham Robinson was an inspired choice. For the next 44 years he led Carlton College, and its successor schools St Thomas' Grammar School and Essendon Grammar School, as Principal/Headmaster.
In the photograph he sits proudly as Headmaster with the St Thomas' Grammar School students after its merger with Carlton College in 1910. He also oversaw the successful establishment of Essendon Grammar School which was created when St Thomas' Grammar School combined with Northern Grammar School. He retired in 1937.