From the Archives: 1963
A new principal is welcomed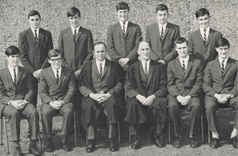 In 1963 Essendon Grammar School welcomed its new Principal, Rev H R (Bert) Stevens.
An excerept from the school's yearly publication, The Triune 1963, reads:
"Mr Stevens, who is 41 and married with two daughters, is the son of a Headmaster. He began training as an electrical engineer before World War II. Mr Stevens joined the RAAF in 1941 and served as a navigator wireless operator.

"After the war Mr Stevens taught at Brisbane Boys' College and Albury Grammar School, and then took up a Rehabilitation Grant to study for an honours degree in History at the University of Melbourne. After graduating as Bachelor of Arts with Honours at University of Melbourne in 1951, he completed a first-class honours course in Theology at the Ormond Theological Hall, sharing the final-year prize.

"Mr Stevens spent two years as minister of the new parish of Morwell East, and in 1957 returned to teaching in History and Social Studies Master at Ballarat College, where he was responsible for the development of Pastoral Care in the day-school houses."
Prior to arriving at Essendon Grammar school, Rev Stevens had successfully coordinated the merger of Alexandra College and Hamilton College, leaving at the end of 1961 to let them "get on with it." He then became Vice-Principal of Ivanhoe Grammar School.

Upon Rev Stevens' retirement as Principal of Penleigh and Essendon Grammar School at the end of 1987, student, Ishita Palit, wrote an article for the Yearbook.
"In September, 1962, Mr Stevens was asked to be the headmaster of Essendon Grammar School. 'It was a pretty decrepit school, this one,' he said, recalling a student population of two-hundred and thirteen, 'but there were some bright boys, by golly there were some bright boys.'

"As the school developed, so too did Mr Stevens' role as part of it. 'It's quite fascinating, actually. I've developed from being a scholastic and academic - teaching - to what you might call an executive director of the school.'

"The culmination of the merger in 1977 is what we have today in 1987. Mr Stevens believes that as the school grows, one Head can effectively look after about four hundred students. A structure was developed so that the six Heads of each section virtually run that section and Mr Stevens co-ordinates them, keeping the overall view."